The incredible story behind the making of, "Una Great Movie"!
An African American woman fearlessly travels to Mexico to accomplish her 17-year dream, and a town full of Mexicans help her to succeed. An honest inspirational story about living your best life, enjoying the journey, and how the human spirit surpasses borders, race, and stereotypes.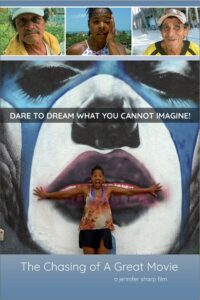 What is it that makes someone go blindly after a dream? When is that moment where you transcend fear, and nothing is more important than fully living the one life that you have? Somewhere deep inside lies a trigger, a passion, and a bravery that, if ignited, will completely change the world as you know it. All rules and limitations disappear; and limitless possibilities and miracles present themselves on a daily basis. "The Chasing of A Great Movie," IS that moment. In 1999, while traveling in Mexico, Jennifer Sharp happened upon a small fishing village that changed her life. The moment she set foot on that magical place full of generous loving people who welcomed her like it was her home, she wanted to share that magic with the world. She declared that she would one day make a movie there. After 17 years of working within the Hollywood system to get her movie made, and being continually rejected, she takes her life savings, raises all of her credit card limits and goes for broke to make her movie in Mexico on her own. This is not a behind the scenes documentary about the making of a movie, this is a documentary about the trials and tribulations of chasing a dream. For Jennifer, her dream was making a movie, but for anyone who watches this, it will reflect their own dreams and fears. This movie will inspire each person to look a little differently at their own limitations, lose a bit of their fear, and dare to dream what they cannot imagine. Through her own personal documentations, Jennifer shares an honesty and rawness that is heart-wrenching and heart-warming all at the same time.